Today, I'm taking you on a tour of the NC's Secretary of State website, sosnc.gov. This is one of the most useful government sites for small business owners and nonprofits in North Carolina. Sosnc.gov handles formations, name searches, trademarking, charity licenses, and much more!
Formations
The main thing I use the Secretary of State's website for is formations. I'm forming at least one new company every week. Therefore, you might have different needs. However, if you ever need to file articles of organization or incorporation with the Secretary of State of North Carolina, this is where you do it.
To get to the part where you file for a new business, you start at the main menu "I Want To.." and then click "Create a Business Online". This will take you to the step-by-step process. If you need a step-by-step guide, we've written one here, but the Secretary of State has many guides and resources on the right hand column on that page.
Name Search
Prior to filing articles with the Secretary of State, you need to conduct a name search. You complete at least a portion of that by clicking "Search For A Business" in the main menu. Be sure to search both business names and assumed names.
Secretary of State Main Menu
A couple years ago, the Department of the Secretary of State updated their website. The menu now contains way more items than it used to. As you can see below, some are also repeated.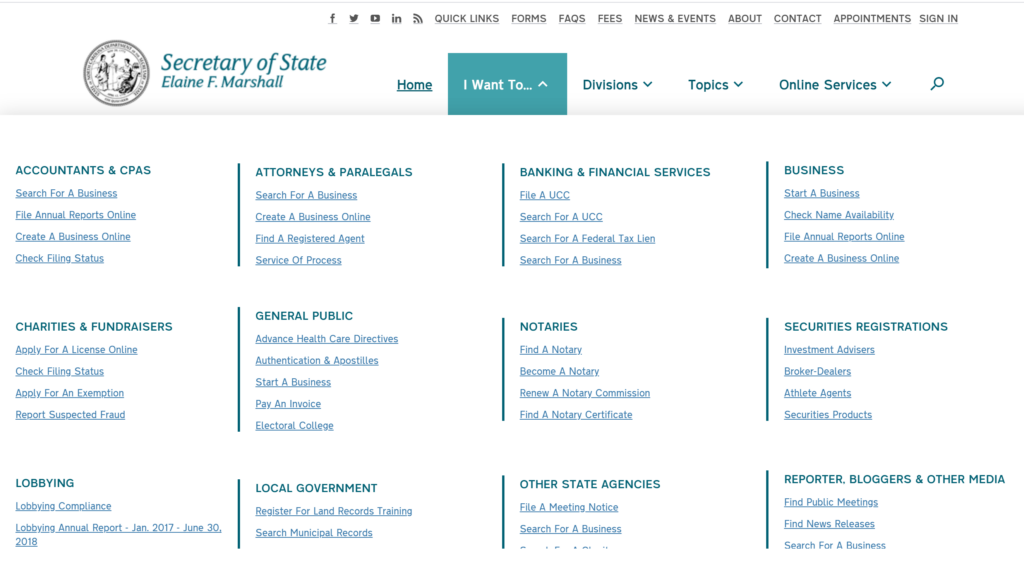 Charity Search
You can use the site to search for whether a charity has a solicitation license. Any charity that attempts to solicit money from you in NC must have a solicitation license filed with the NC Secretary of State. They're cheap and the application process is easy. If you need a solicitation license, here's where you'd apply.
Notaries & Investments
Although notaries are licensed by separate register of deeds, the Secretary of State maintains the list of who is a notary and disciplinary matters.
This department also handles certain things related to investments on a state level, for those investments not regulated at the federal level.
UCCs
This site is also where you search or file UCC-1s. UCCs are liens against business assets. They're easy to file, but you better make sure you follow the rules for doing so. It is also important to search these on a business you're working with to ensure they're solvent. Banks and other lenders will search these prior to loaning any money to a business. Similarly, if you're buying a business, definitely check these first.
Hopefully this tour is a helpful first step in knowing what the Secretary of State's website has to offer. Because of how much they do, there's a ton of information available. They also do a great job of making guides for you to use.
Richard is the managing attorney for Law Plus Plus, a local small business law firm. As managing attorney, he helps small businesses and nonprofits startup, creating the contracts, and navigate the legal needs of businesses. Some of his practice areas include: corporate, contract, mergers & acquisitions, corporate litigation, and estate planning.