What is a Franchise? That's a question that comes up a lot in my work. We have both a legal analysis and a common definition for franchises.
What is a Franchise, Commonly?
Broadly speaking, a franchise is a business relationship where you pay someone to operate under their brand. The franchisor does not own your business, but does set certain terms and collect payment in exchange for the goodwill and other services they provide you.
For example, let's say you want to open a Subway franchise. Subway will require that you pay an upfront fee plus weekly fees based on sales plus a set weekly price. Subway, like most larger franchises, base your cost on the area you're getting exclusivity over. In return, you get to use their brand, advertising (which you actually pay for), technology, and all the support you need to run your business. They often even provide access to accounting and other back office services.
What is a Franchise, Legally?
The FTC has some very strict regulations for franchises. Additionally, many states require that franchises register in that state before any franchisee is permitted to operate in that state. These regulations are a very complex , and therefore awfully costly. If you're going to sell franchises in the United States, you are required to prepare a Franchise Disclosure Document (FDD) for your perspective franchisees. This document is often hundreds of pages long.
Legally, what is a franchise? That's the question we're addressing. There are three elements that must be met:
Promise to provide a trademark or other commercial symbol;
Promise to exercise significant control or provide significant assistance in the operation of the business; and
require a minimum payment of at least $500 in during the first six months of operation.
Let's cover each of these separately.
Trademark or Other Commercial Symbol
This is one of the easier criteria. Under our Subway example, if you're allowed to use the term "Subway" or any of their identifying marks, that fulfills this prong of the test.
Significant Control or Assistance
This is the hardest criteria to cover because this is where people try to cheat. In most cases, you know this when you see it. However, businesses who try to avoid having to provide the FDD or registration will argue what "significant" means.
The FTC has provided a nonexclusive list. Ultimately, it is up to the FTC and courts to determine when something falls in this category.
Control is significant in instances including:
site approval for unestablished businesses;
site design or appearance requirements;
hours of operation;
production techniques;
accounting practices;
personnel policies;
promotional campaigns requiring franchisee participation or financial contribution;
restrictions on customers; and
locale or area of operation.
Significant types of assistance include:
formal sales, repair, or business training programs;
establishing accounting systems;
furnishing management, marketing, or personnel advice;
selecting site locations;
furnishing systemwide networks and websites; and
furnishing a detailed operating manual.
These are not exclusive lists, and you can see that they're fairly broad.
Minimum Payment
The FTC has made it clear that the payment element means almost any payment whatsoever. It doesn't matter if you think you can get around it by reclassifying the payment as something else. The FTC has thought of most scenarios and has determined this element should be read as broadly as possible.
For example, if you're instructed to pay for a $500 training, that counts. Additionally, if you don't have to pay for six months, but you do have to buy supplies from the franchisor, that counts. They've even addressed what happens if you pay a third party that eventually gets to the franchisor.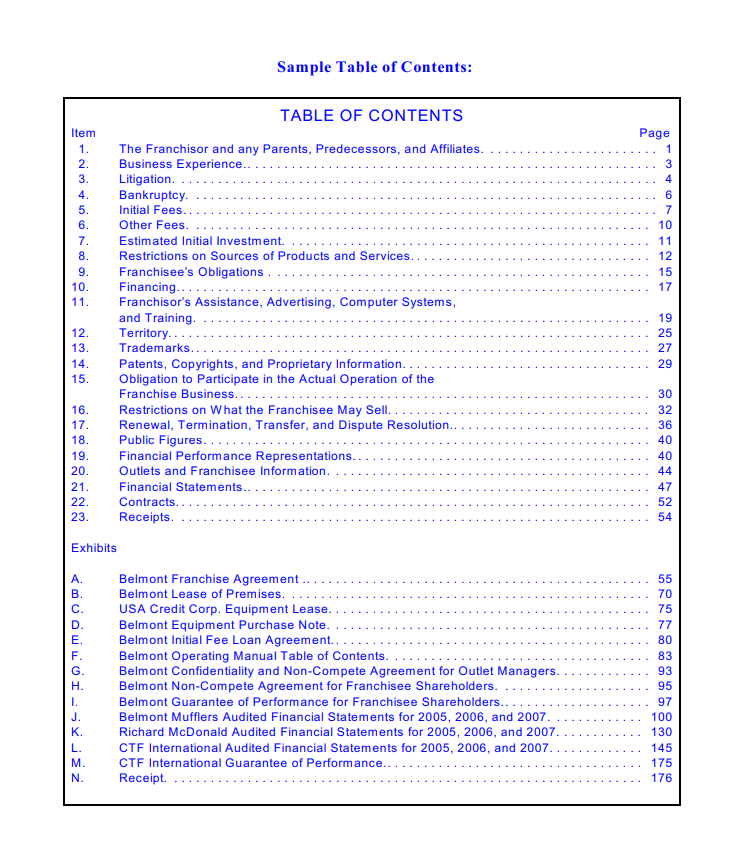 Federal Disclosure Document
As you can see from the image above, the FDD requires a lot of information! It's no small task to turn your business into a franchise. Not only do you have to do all the work of preparing the FDD, but you need to have good enough records in all these areas to be able to clearly articulate them.
For example, if you want to control where your franchisees can get certain computer systems, inventory, or other services from, it has to be listed in the FDD. Therefore, you better have done your research as to what's best, if it's available where you'll have franchisees, and any other restrictions on it.
This is Not a License Agreement
The most common issue I see come up is businesses that make these arrangements, but they try to do it as a license agreement instead of a franchise.
License agreements look like this: You pay $X as a flat rate, percentage rate, or otherwise, and you get to use the trademarked or copyrighted content. The only restrictions that can be placed have to be for the protection of the content itself. For example, if you license Moana artwork from Disney, they can limit how you display Moana. What they cannot do is tell you how to run your business. If they did, that would be substantial control pushing this into franchise territory.
Exemptions
Yes, there are a lot of exemptions to this rule because there are scenarios where the franchise rule wouldn't make sense. For example, a franchisor is exempted from these rules if they're selling a franchise to a large organization like a hospital, airport, or university. The FTC has decided those large organizations are sophisticated enough, they don't need the protections of the Franchise Rule.
Whereas the criteria for falling into the Franchise Rule are very broad, the exemptions are very specific. The situation has to match exactly or it does not qualify for the exemption.
Richard is the managing attorney for Law Plus Plus, a local small business law firm. As managing attorney, he helps small businesses and nonprofits startup, creating the contracts, and navigate the legal needs of businesses. Some of his practice areas include: corporate, contract, mergers & acquisitions, corporate litigation, and estate planning.